Today's guest
We have invited Mr. Kazuto Masuyama, a professional hair stylist.He will introduce his recommended shampoo to us.
So, Mr. Masuyama, thank you very much for joining us today.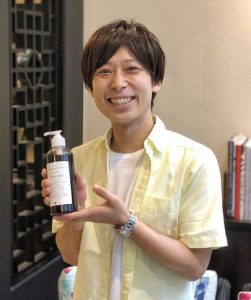 Q1. Could you tell us what shampoo you recommend?
OK.
I recommend a good shampoo,
Perfection Shampoo bonne Femme!
I have been using it for about 3 years.
Q2. What points do you recommend?
This shampoo has the functions of cleansing, hair care, and hair growth.If you have a concern about hair-loss,this shampoo absolutely suit to you.
I felt that my hair was losing its vitality due to my age,actually.So, I was wondering whether I should use a hair-growth product or not.
At that time,This shampoo was introduced at the hair salon where I work. that's why I decided to try it.
I was continuing to use it, and it reduced my hair loss.
I had  my scalp like a sticky getting over afternoon before.But now,
my hair and scalp is getting improved and fluffy!
It also includes a treatment which saves me a lot of time and effort.
Q3. Who would you recommend it to?
I would like to recommend it to people who has some problems.
"I want to take care of my scalp easily.
I am concerned about my hair loss.
I want to make my hair bouncy and strong.
If you think so,
This shampoo is perfect for you.
I also recommend for women suffering from postpartum hair loss and damaged hair.
The concept of this shampoo is "postpartum hair loss care.
So, it will help postpartum mothers in their daily lives.
Q4. What kind of fragrance is it?
It has a lavender and citrus green scent.
I don't like shampoos with strong smell.
but this shampoo has a nice scent!
Q5: Finally, do you have a message for our readers?
This shampoo is quite expensive, but I really recommend it.
My hair loss has decreased by continuing to use this shampoo. The smell of my scalp, which used to bother me in the evening, has also improved, so I am really happy about that.
It also contains my favorite ingredient, hematin. It has also functions to prevent gray-hair and remove chemical damage.
I can't even begin to tell you how attractive it is here. LOL!
I recommend it to men and women of all ages.Please give it a try!